| | |
| --- | --- |
| Brand | GoPro |
| Connectivity Technology | Wi-Fi, USB |
| Color | Black |
| Special Feature | Waterproof |
| Screen Size | 2.27 Centimeters |
| Photo Sensor Technology | CMOS |
| Included Components | HERO12 Black, Enduro Battery, Curved Adhesive Mount, Mounting Buckle + Thumb Screw, USB-C Cable |
| Video Capture Resolution | 5.3K |
| Minimum Focal Length | 15.1 |
| Lens Type | Zoom |
Camera
Capture life's most precious moments with precision and clarity. Cameras are one of the most popular electronic devices in the world. They are used by people of all ages and backgrounds to capture memories, document events, and express their creativity. In this category, Hafeez Center brings a collection of cameras, where your journey into the art of photography begins. Whether you're an amateur photographer or a seasoned pro, our range of camera types caters to all your photography needs. Join us on a journey where every click tells a story.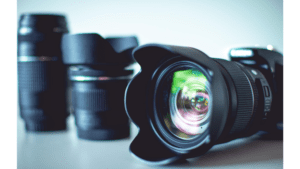 Looking for the best photo or videography services in Pakistan? Bells Studio is your answer. Their dedicated team of professionals is ready to capture your special moments with creativity and the best cameras in the market. Explore Bells Studio's services today and make your memories unforgettable.
Camera Price in Pakistan | Capture Life's Moments Without Breaking the Bank
Are you eager to embark on a photographic journey, but you're concerned about the cost? At the Hafeez Center online store, we understand the importance of affordability when it comes to cameras. That's why we offer competitive prices for a wide range of camera types and accessories to cater to every budget. We believe that everyone should have the opportunity to capture life's moments, whether you're a photography enthusiast looking for the latest DSLR or a casual snapper in need of a compact point-and-shoot camera. Our extensive selection covers various price points, ensuring that you find a camera that fits your budget.
We provide transparent pricing, so you can make informed decisions and invest in the best camera for photography without breaking the bank. Discover incredible hot deals on popular camera brands and other lights and accessories, all designed to make your photographic aspirations a reality. Whether you're an amateur, a professional, or anything in between, Hafeez Center makes high-quality photography accessible to everyone in Pakistan. Capture life's moments without compromise and explore our cheap camera prices today.
Types of Cameras | Finding the Perfect Match
Here's an overview of the camera types available at Hafeez Center, ensuring you find the perfect match for your specific needs:
Point-and-Shoot Cameras – These compact and user-friendly cameras are ideal for casual photographers, travelers, or anyone seeking simplicity. They offer automatic settings, making them perfect for quick snapshots, family gatherings, or vacations.
DSLR – DSLRs are the go-to choice for professional and advanced photographers. They provide excellent image quality, interchangeable lenses, and full manual control. With different models designed for beginners and experts, DSLRs offer versatility and creative freedom.
Action Cameras – Perfect for thrill-seekers and adventurers, action cameras are compact, durable, and designed to capture high-quality video and images during activities. They often feature waterproof and shockproof as we can also see in GoPro Hero 12, making them suitable for sports, action, and outdoor enthusiasts.
Battery-Powered Cameras – Additionally, these cameras are a convenient choice for those who need a portable and easily rechargeable solution. They are excellent for on-the-go photography, ensuring you won't run out of power during crucial moments.
Wi-Fi Smart Home Cameras – Wi-Fi smart home cameras like Ezviz H3c provide remote monitoring and surveillance capabilities. They are excellent for home security, baby monitoring, or checking in on your pets while you're away. However, they offer live streaming, mobile app control, and cloud storage options.
Outdoor Security Cameras – Furthermore, designed for security, outdoor cameras for example Imou Cruiser SE, are built to withstand various weather conditions. They are often used for monitoring the exterior of homes and businesses, ensuring safety and peace of mind.
At Hafeez Center, you can explore these diverse camera options, compare features, and select the one that suits your requirements. Whatever your journey may be, we have the best camera in Pakistan tailored to your needs.
Which Type of Camera is Right for You?
Selecting the right camera involves a thoughtful evaluation of your photography needs, budget constraints, features and specifications, the camera's ergonomics, and the compatibility of lenses. Understanding your purpose for the camera is paramount. If you're a casual photographer seeking ease of use and portability, a point-and-shoot camera might be the perfect fit. On the other hand, photography enthusiasts looking for creative control and advanced features may prefer a DSLR.
Budget considerations are significant, as the cost of cameras varies across different types and brands. That's why we offer cameras from well-known brands like GoPro, Imou, Ezviz, Sony, and many others, providing you with an array of options to suit your budget and preferences. However, defining your budget ensures you strike a balance between affordability and the features you require. Additionally, it's important to examine specifications, like sensor size, resolution, video capabilities, and image stabilization. Although ergonomics play a role in your choice, the camera should feel comfortable to handle. Finally, if you're exploring DSLRs or mirrorless cameras, take into account lens compatibility, which enhances your photography with various lens options.
Hafeez Center offers a wide selection of cameras to cater to your specific needs, whether you're capturing family moments, seeking creative expression, or even enhancing your security through surveillance.
Choose the Best Camera at Hafeez Center
When you're searching for the best camera in Pakistan to capture life's moments or meet your surveillance needs, Hafeez Center is your ideal destination. With years of experience and a reputation for quality, we offer a wide range of cameras to suit your preferences and requirements.
Variety of Choices: Hafeez Center boasts an extensive collection of cameras, from compact point-and-shoot models to DSLRs. We have action cameras, battery-powered cameras, Wi-Fi smart home cameras, outdoor security cameras, and even CCTV cameras to cater to a wide range of purposes.
Affordability: Moreover, we understand the importance of budget considerations. Our range of cameras includes options for every budget, ensuring you get the best value for your money.
Quality Assurance: At Hafeez Center, we take pride in delivering quality products. Our cameras come from reputable brands known for their performance, so you can trust that you're getting a top-notch device.
Expert Assistance: Additionally, our knowledgeable and friendly staff will assist you. Whether you need guidance on choosing the best camera for your needs or have technical queries, we're here to help.
When it comes to cameras, we're dedicated to helping you find the best that matches your style, purpose, and budget. At Hafeez Center, your satisfaction and confidence in your purchase are our top priorities. Choose the best camera in Pakistan for your needs and capture life's moments in the best way with us.
FAQs
Which camera is the best for action or adventure?
Action cameras, like those from GoPro, are designed for capturing fast-paced and extreme sports. These cameras are small, durable, and equipped with features like waterproofing and image stabilization, making them perfect for adventure photography.
What should I look for in a security camera?
When choosing a security camera, consider factors like resolution, night vision capabilities, weather resistance, and the ability to connect to your home's Wi-Fi network. However, brands like Imou, Ezviz, and Sony offer a range of options for home security.
What camera is perfect for beginners in photography?
For beginners, a simple point-and-shoot or an entry-level DSLR can be a good starting point. These cameras offer user-friendly features and are perfect for learning the basics of photography.
Are there any camera accessories I should consider buying?
Camera accessories like tripods, camera bags, extra batteries, and memory cards can enhance your photography experience. The choice of accessories depends on your photography style and preferences.
Can I use apps to control Wi-Fi smart home cameras?
Yes, many Wi-Fi smart home cameras offer companion apps for smartphones. These apps allow you to monitor and control the camera remotely, view live feeds, and receive alerts on your mobile device.
What's the difference between a DSLR and a mirrorless camera?
DSLR cameras have an optical viewfinder and use a mirror mechanism, while mirrorless cameras lack the mirror and provide an electronic viewfinder or LCD screen. Mirrorless cameras tend to be more compact and offer silent shooting, while DSLRs are known for optical viewfinders and extensive lens compatibility.
Is Hafeez Center online store based in Pakistan?
Yes, Hafeez Center Online Store is based in Pakistan, serving customers nationwide.
What products do you offer at Hafeez Center online store?
We provide a diverse range of products, including electronics, gadgets, cameras, tablets, laptops, and accessories from reputable brands.