| | |
| --- | --- |
| Brand | Havit |
| Model Name | GC927 RGB |
| Color | RGB |
| Warranty | 1 Year Brand Warranty |
Gaming Accessories Price in Pakistan | Elevate Your Gaming Experience
Welcome to Hafeez Center Online Store, your ultimate destination for gaming accessorie in Pakistan. Elevate your gaming experience with our wide range of high-quality gaming peripherals and accessorie. Whether you are a casual gamer or a competitive esports lover, we have everything you need to improve your gameplay.
From gaming controllers to gaming headset stands, and more, we offer the latest and most innovative accessories from top brands to take your gaming to the next level. While the prices of these accessories can be high and not easily affordable for everyone, avid gamers who understand the language of gaming setups are keen to invest in gaming products. Therefore, explore our collection and find competitive gaming accessorie prices in Pakistan, designed to express your proper gaming potential.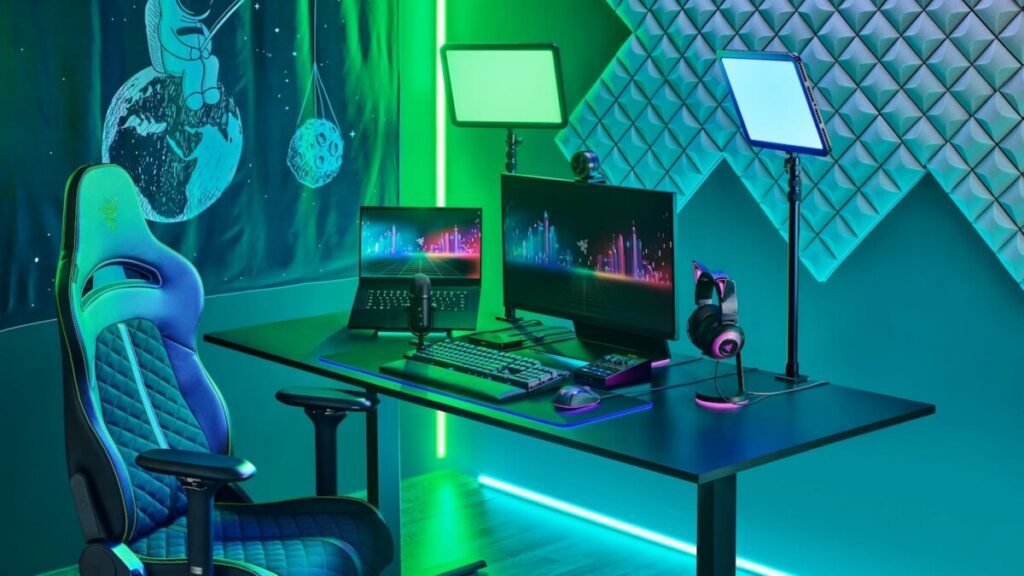 Gaming Accessories | Creating a Role in Battle Station
Just like skilled warrior equips themselves with the finest weaponry before heading into battle, gamer equips their battle station with high-quality gaming products to gain a competitive edge. Each accessory is carefully designed to enhance specific aspects of your gaming experience. From high-performance gaming mouse that offer accurate tracking and customizable buttons to gaming headsets that deliver immersive audio and crystal-clear communication with teammates, every accessory has a vital role to play.
Similarly, customization and personalization are at the core of a battle station. Gaming keyboards with customizable RGB lighting and programmable macros enable you to tailor your gaming setup. Meanwhile, gaming monitors with high refresh rates and visuals ensure a smooth and breathtaking display of the gaming world.
Beyond aesthetics, most importantly gaming products prioritize comfort and functionality. Ergonomic gaming chairs provide the necessary support during long gaming sessions, whereas cooling pads keep your hardware at optimal temperatures. With our competitive prices, you can create a battle station that not only improves experience but also reflects your prowess.
Explore Our Diverse Range of Gaming Products
At Hafeez Center, we take pride in offering a range of gaming products for gamers' unique preferences and requirements. Whether you're a seasoned pro or just starting your gaming journey, our collection has something to enhance your gaming setup and take your gameplay to the next level. Discover a selection of products, designed to elevate your gaming experiences that make every moment in the virtual world exciting. Here are some accessories to improve your gameplay.
A high-performance gaming mouse is an essential tool for precision and control. Look for a mouse with adjustable DPI settings, buttons, and designs to ensure comfort and accuracy during gaming sessions.
Our collection includes the top brands for gaming mouse, such as Logitech, and Bloody. These brands are renowned for their commitment to producing high-quality gaming mice with cutting-edge features and ergonomic designs. However, each gaming mouse in our store is crafted to provide precise control, fast response times, and durability. Whether you're a casual or a professional player, our collection will elevate your gaming experience to new heights.
Customize your gaming setup with feature-packed gaming keyboards. Mechanical switches, RGB lighting, and programmable macros allow you to match your gaming style and deliver lightning-fast inputs.
We offer a wide range of gaming keyboards that are specially designed to enhance your gaming performance. Our collection includes gaming keyboards from top brands like Redragon and T-Dagger, known for their best quality and innovative features. These gaming keyboards are equipped with mechanical switches that provide tactile feedback and rapid response. Whether you're into FPS, MOBA, or MMO games, our keyboards are built to withstand intense gaming sessions for maximum control. Upgrade your setup for gaming with a high-performance gaming keyboard.
Immerse yourself in the virtual world with crystal-clear audio and seamless communication using gaming headsets. Noise-cancellation technology and high-quality sound ensure you never miss a beat or a crucial teammate call-out.
Our gaming headsets are a must-have accessory for any gamer individual. Choose from top gaming headset brands like HyperX and Logitech to experience the highest level of audio fidelity during gameplay. These headsets feature premium speakers and noise-canceling microphones, ensuring you can hear every detail and communicate with your teammates. However, with comfortable ear cushions and adjustable headbands, our gaming headphones are designed for long gaming sessions without any discomfort.
Elevate your visual experience with high-refresh-rate gaming monitors. Enjoy smooth gameplay, reduced motion blur, and stunning visuals for a more immersive gaming environment.
A monitor is an important component of gaming system, and we offer a range of options for every gamer's needs. Enjoy ultra-smooth gameplay, vibrant colors, and fast response with our top brands for gaming monitors, such as Asus and AOC. Designed to deliver a visual experience, these systems boast high refresh rates, low input lag, and sync technologies.
From sleek and stylish designs to curved displays that wrap you in action, our gaming monitors are sure to take your gaming experience to a whole new level. Whether you're a casual gamer, a professional eSports player, or anything in between, our selection of gaming monitors is provide the competitive edge you need for victory.
Stay comfortable during long gaming sessions with ergonomic gaming chairs that provide optimal support for your back and posture. Enjoy extended gaming without sacrificing comfort.
Our collection of gaming chairs is designed to provide you with unparalleled support and comfort, ensuring that you can focus on your gameplay without any distractions. These ergonomic chairs are equipped with adjustable features such as lumbar support, headrests, and armrests, allowing you to customize your seating position. Choose the perfect gaming chair from our collection and take your gaming sessions to a whole new level of relaxation and performance.
For console gamers, gaming controllers are a must. Look for controllers with customizable buttons and comfortable grips to enhance your console gaming experience.
We offer a diverse range of high-performance gaming controllers that cater to various gaming platforms. Our collection includes top brands like Reddragon and Sony, known for their quality and innovation in gaming peripherals. Upgrade your gaming setup with the best gaming controllers and unleash your full potential in the virtual world. Take your gaming experience to new heights with our selection of gaming controllers at competitive prices.
Find the Perfect Accessories to Suit Your Gaming Style
No two gamers are the same, and that's why we offer a wide range of accessories for gaming to suit different gaming styles. Whether you're a competitive eSports player, a casual gamer, or a content creator, we have the perfect products for gaming to match your needs.
Our experts are here to assist you in selecting the right accessories for your gaming setup. Explore our collection, compare features, and find the accessories that perfectly complement your gaming style. With our focus on quality, performance, and affordability, Hafeez Center Online Store ensures that you have access to the best gaming accessories in Pakistan to optimize your gaming experience. Let your gaming prowess shine with our top-notch products and conquer the virtual world like never before.
Above all, when it comes to gaming, having the right products can make a significant difference in your overall experience. However, high-quality accessories for gaming not only enhance your performance but also immerse you in the game like never before. From precision gaming mice that offer accurate tracking to comfortable gaming headsets with crystal-clear audio, these accessories are designed to bring out the best in your gaming skills.
However, apart from improving gameplay, gaming products also provide comfort during long gaming sessions. Ergonomic designs, adjustable features, and durable materials ensure that you can focus on the game without any distractions. Investing in top-notch accessories is a wise choice for any avid gamer looking to take their gaming experience to the next level.
Create Your Ultimate Gaming Setup on a Budget
You don't need to break the bank to build your dream gaming setup. At Hafeez Center Online Store, we offer a wide range of gaming products at affordable prices, allowing you to create your ultimate gaming setup without compromising on quality. Whether you're a casual gamer or a competitive player, our budget-friendly gaming accessories cater to various needs and preferences.
With our cost-effective gaming accessories, you can elevate your gaming experience without burning a hole in your pocket. From budget gaming mice with impressive performance to affordable gaming headsets that deliver remarkable sound quality, our collection ensures that you get the most out of your gaming sessions without overspending.
Upgrade your gaming setup and enjoy a smooth and enjoyable gaming experience with our affordable gaming goods in Pakistan. For the most up-to-date prices and availability, contact us on Whatsapp.
Frequently Asked Question (FAQ'S)